AdOne Joint Stock Company launching ceremony
Sep 21, 2021
Hanoi, September 20, 2021 – FPT AdTrue Advertising Joint Stock Company (A programmatic ads company, invested by FPT Investment) and OneSoft Joint Stock Company (Top 2 Mobile Game Publishers in Southeast Asia) held the Launching Ceremony of AdOne Joint Stock Company. AdOne was established to provide comprehensive product development solutions for studios and developers in the field of creating and publishing mobile applications.
The ceremony was attended by Representatives of FPT; Board of Directors of FPT AdTrue Advertising Joint Stock Company and OneSoft Joint Stock Company; Representatives of Google and Facebook; top Vietnam and global mobile applications enterprises in developing and publishing; as well as domestic and foreign strategic partners of AdOne Joint Stock Company.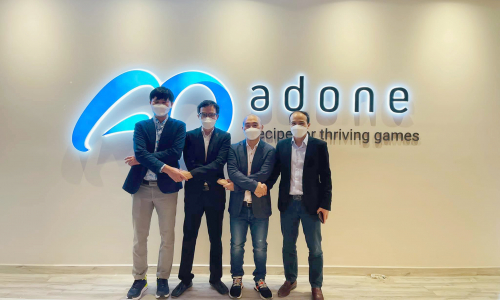 FPT AdTrue and OneSoft studio – Founders of AdOne JSC
Inheriting FPT AdTrue's experience and success after its 5-year operation in mobile advertising industry, and OneSoft's team of experienced experts in the field of mobile apps development and publishing; AdOne provides the most comprehensive and complete solution system, meeting all needs of all stages for developers to develop, publish and optimize a Mobile Application. Besides, FPT AdTrue's strategic partner network spreading over 60 countries, including many leading enterprises in developed countries such as the US, UK, Russia, and Turkey helps AdOne to support studios and developers in Vietnam and around the world to reach potential users on a global scale.
AdOne's vision is to become the first multinational company in Vietnam and in Southeast Asia to provide all-in-one solutions for mobile application development. With a team of highly specialized expertise who have many years of experience in the international market, along with an advanced platform applying Big Data and optimal algorithms, AdOne is ready to support and promote creative talents to develop and publish mobile applications, build and unlock their products potential, create successful business models and maximize profits from their ideas.
AdOne's solutions include Consulting and Developing mobile application projects; Building user growth strategies (Users Growth); Providing advertising management and monetization system on mobile applications (Monetization Platform); Applying data synthesis and analysis system (Analytics Dashboard); and Funding & Publishing mobile App/Game projects with publishing platform (Publishing).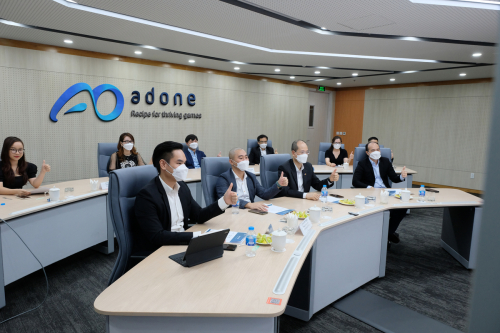 Representatives of FPT, FPT AdTrue and OneSoft studio in the ceremony
Mobile application publishing and development is a huge and growing industry around the world, despite the pandemic situation that has been holding back the global economy. According to the 2020 market report from App Annie, this industry recorded impressive results: consumer spending reached $143 billion, increasing by 20% comparing to 2019 statistics, 25% more publishers earned over $2M per annum on either store, etc, promising a lot of potential but also posing opportunities and challenges for domestic enterprises when going international.
In the ceremony, Mr. Nguyen The Phuong, Deputy General Director of FPT Corporation and FPT AdTrue Chairman of Directors, commented: "I'm confident that AdOne, taking over the advantages and long-time experiences of FPT AdTrue and OneSoft studio, will make its solid steps in this open market.".
"Mobile games industry opens a lot of opportunities and challenges for developers and publishers. […] As a strategic partner, Google is always willing to accompany AdOne to overcome such challenges and claim its position in this market.", said Ms. Tram Nguyen, Google Director of Vietnam, Laos, Cambodia on AdOne launching and its opportunities.
Mr. Nguyen Huu Hung Cuong, Chief Operating Officer of AdOne affirmed: "We believe AdOne would be a firm foundation to help talented developers to go global with their mobile app projects, with our all-in-one services and community programs that we have been carrying out".