Why are Hyper-casual games at the top of free games chart?
Sep 08, 2021
What are Hyper-casual games?
The term "hyper-casual" is established in the world of mobile marketing, but the category still doesn't exist in the App Store and Google Play Store. Some even say it's more of a business model, rather than a mobile game genre.
A hyper-casual game refers to a lightweight game with minimal design. They are relatively easy to produce, but they guarantee to offer a high level of entertainment and replayability. Hyper-casual games are produced in a way to be approachable and enjoyable by the widest number of players.
The hyper-casual game will most often generate revenue from in-app ads, rather than in-app purchases.
The business strategy of publishers working in the hyper-casual genre will usually be to quickly design and publish the game. After publishing, the goal is to acquire as many users as possible. It is usually done through paid user acquisition. After obtaining a significant user base, revenue is obtained through paid ads displayed in the game.
The development of Hyper-casual games
The hyper-casual game made a big entrance in the mobile game scene. It was with the release of the Flappy Bird in May of 2013. In a matter of weeks, Flappy Bird became a global phenomenon. 
56 different hyper Casual games surpassed 50 million downloads in 2020. Hyper-casual install growth continued in 2020, rising 60 percent year-over-year. Most of the growth occurred early in 2020 as downloads rose 35 percent between Q4 2019 and Q1 2020.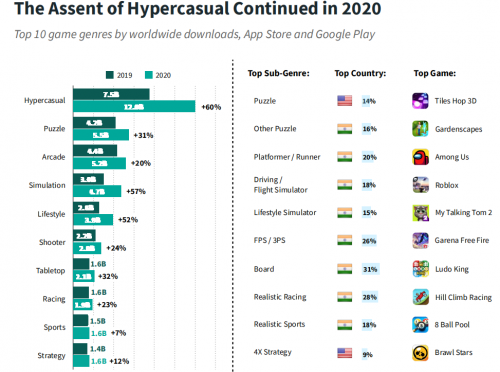 Source: Sensor Tower
Hyper-casual installs have skyrocketed, climbing from 757 million in Q1 2018 to more than 3.4 billion in Q1 2021. The genre was responsible for 31 percent of downloads in Q1 2021; no other genre had more than 12 percent.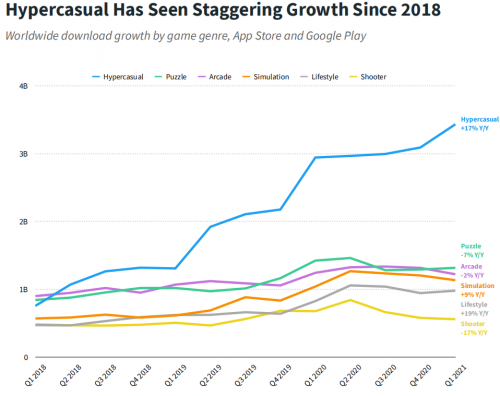 Source: Sensor Tower
Five of the top 10 fastest growing sub-genres by Y/Y growth in Q1 2021 were in the Hyper-casual genre, including the top two. The top game in Q1 2021 was Join Clash 3D from Supersonic Studios with more than 81 million downloads, representing the Hyper-casual – Traversal sub-genre.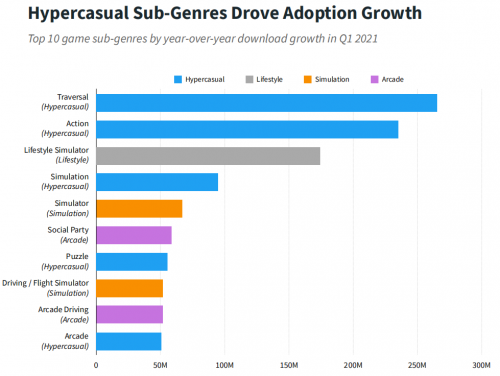 Source: Sensor Tower
While hyper-casual game download growth slowed after a large spike in Q1 2020, downloads still reached a record high of 3.4 billion in Q1 2021, up 17 percent from a year prior. More than 30 percent of game installs in Q1 2021 were from hyper-casual games.
Why Hyper-casual games are at the top of the free games chart?
Hyper-casual gamers often enjoy some light fun when they have nothing better to do. According to Facebook's hyper-casual games report, the main 7 reasons why many people play hyper-casual games are:
To alleviate stress
To pass time
The feeling of accomplishment after completing a challenge
To dive into another world or character
They are impressed by something unique
To nurture something unique about them
As a connection to something they are passionate about in real life
The lifetime of hyper-casual games is usually short. Considering that the average user nowadays has over 100 apps on their phone, competition in the hyper-casual space is fierce. Publishers usually resort to keeping the content "fresh" with constant releases of new titles. Subsequently, LTV (long-term value) of a hyper-casual game player is not very high.
In that situation, many hyper-casual developers finished one game then immediately moved onto the next, turning over a game a week in some cases. This meant that they simply couldn't create new, detailed assets for every game. It's for this reason that hyper-casual games can usually be identified at a glance, often making use of simple 3D assets and block colours. While some may claim that this approach highlights a lack of effort on the part of the devs, one could easily counter that simple, recycled visuals were a necessity to facilitate hyper-casual games working as intended.
Tips for publishers
Hyper-casual games are one of the most popular trends in recent years, which attracts lots of publishers and creators all over the world. Despite the development of this trend, companies should have suitable options to explore their potential.
With detailed research of customer's behavior, publishers will have chances to create top games with a lot of installs and good feedback.
The short product life cycle requires game studios and publishers to be careful of choosing partners in ad monetization.
Source: Internet