Gardenscapes grows past $3 billion globally player spending
Sep 20, 2021
Gardenscapes from Playrix has generated more than $3 billion from player spending globally across the App Store and Google Play since its release in 2016.
In H1 2021, Gardenscapes was the No. 2 revenue-generating Puzzle & Decorate game globally, accumulating $405 million. It ranked behind its successor, Homescapes, which picked up $469.2 million, and above Fishdom, also by Playrix, at No. 3.
The title was one of the first to innovate the Match 3 genre by implementing a strong narrative focus and spearheaded a wave of Puzzle & Decorate titles, which has become a highly lucrative subgenre in its own right.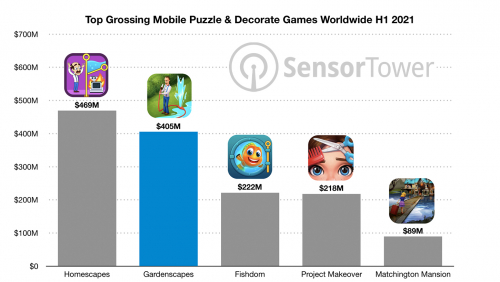 Top Grossing Mobile Puzzle & Decorate Games worldwide H1 2021
Source: Sensor Tower
Global Top Grosser
Gardenscapes has continued to grow and in 2020 the title had its best year ever for player spending, picking up approximately $959 million, an increase of 78 percent YOY. Overall, the title was the No. 9 revenue-generating game globally, ranking above Fate/Grand Order from Sony's Aniplex at No. 10.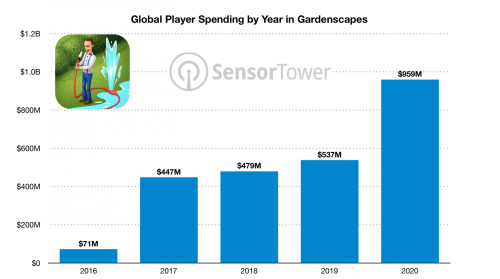 Global Player Spending by Year in Gardenscapes
Source: Sensor Tower

The United States has been Gardenscapes' most lucrative market to date, with the title picking up $1.1 billion from player spending in the country or approximately 37 percent of total revenue. Japan ranks No. 2, while Germany ranks No. 3. The title has also made inroads on China's App Store, with the country ranking No. 4 for revenue.
The App Store edges out Google Play for player spending, generating 50.2 percent of the game's revenue to date. Google Play, meanwhile, accounts for 49.8 percent.
Lucrative Shift
Originally a Hidden Object game, Playrix's shift to Match 3 has paid dividends for the publisher. Thanks to innovating on the popular sub-genre, and forging its own path with Puzzle & Decorate, the title now ranks as one of the highest revenue-generating mobile games of all time, joining Dragon Ball Z: Dokkan Battle from Bandai Namco in surpassing the $3 billion mark this year. Playrix, meanwhile, has also firmly established itself as the leader in the Puzzle & Decorate space it forged, where it now generates billions of dollars a year.
Source: Sensor Tower