Microsoft Purchases Scandal-Tainted Activision For The Biggest Tech Deal Ever
Jan 19, 2022
Microsoft Corp. (Nasdaq: MSFT) plans to buy Activision Blizzard Inc. (Nasdaq: ATVI) for $68.7 billion, acquiring a legendary game publisher.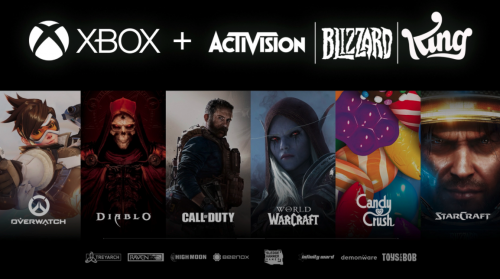 In its largest purchase ever, Microsoft will acquire Activision Blizzard for $95.00 per share, in an all-cash transaction valued at $68.7 billion, inclusive of Activision Blizzard's net cash. The deal, which would make Microsoft the world's No. 3 gaming company, behind Tencent and Sony, also fits with Chief Executive Officer Satya Nadella's strategy of focusing on content, community, and cloud software.  
Activision CEO Bobby Kotick, 58, will continue to serve in that role only until the deal closes, a person familiar with the deal said. Once the transaction is completed, the Activision Blizzard business will report to Phil Spencer, who, as part of the deal was promoted to CEO of Microsoft Gaming. 
Activision, which has a long history with Microsoft's Xbox, will also help the software giant better compete with rival Sony Corp.'s PlayStation.  "Gaming has been key to Microsoft since our earliest days as a company," Nadella said in a note to employees. "Today, it's the largest and fastest-growing form of entertainment, and as the digital and physical worlds come together, it will play a critical role in the development of metaverse platforms." 
Taking on Activision also introduces a whole host of legal and potential regulatory problems to Microsoft. Activision has been shrouded in controversy since last July after a California state agency filed a sexual bias lawsuit against the Santa Monica, California-based company, describing in lurid detail its "frat-boy culture," and accusing leadership of failing to take action to stop it. The U.S. Securities and Exchange Commission later launched its own investigation into how the company handled the reports of misconduct. 
The deal will also likely face tough regulatory scrutiny in the U.S., where big technology companies are being probed by regulators for their reach and influence. China, which has been sparring with the U.S. already over technology issues, will also likely review the merger.
Microsoft's bid is a 45% premium on Activision's closing price Friday. However, it's a bargain compared with the stock's performance in the first half of last year, before the sexual bias lawsuit plunged the company into crisis. The shares hit a high of more than $100 apiece in February and then lost nearly half their value by the end of the year. Microsoft shares fell about 2% Tuesday afternoon in New York.
Source: Bloomberg